Katchart DIY DVDs
For Design and Decorating of Homes and Property
Staging to sell  /  Defining to set up  /  Redefining to make over
More Information on Staging and
STAGING FOR SELLERS
A Katchart DIY Design & Decorating DVD for staging homes
1. What is Staging?  Staging is design and decoration applied to a Project of selling property (home, house, apartment, townhouse, condo, vacation home, etc.). The characteristics of this type of Project are: i.) an existing design and decoration plan which is usually long-standing; [Note: However, if you can afford to move out first, it makes the staging much easier to do]; ii.) the entire property has to be staged in a relatively short period of time (and there are usually other matters relating to the sale going on as well); and iii.) the target audience for the Project is prospective purchasers  
2. Faster Sale & More Money: On average, staged properties sell 50% and for 7% more. Interesteing, these charts were prepared some years ago, but the results have been consistent.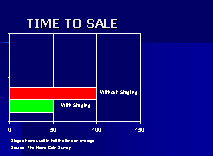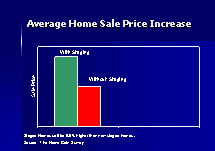 8. Repairs/Replacements vs Remodel- ing/Re-furnishing: We have seen many instances of what we call re-modelling or re-furnishing advice being given to sellers as part of the staging plan. We always caution about these and advise that the seller to really understand the answer to the why question this type of advice. Re-modelling and re-furnishing can get very expensive; you may not get your money back; and/or it may not suit the tastes of many buyers. If it is not a repair or replacement (needed to sell the property, then you should question it and explore other alternatives for staging. Remember, Its NOT about WHAT you have to present; it's about HOW you present what you have.
3. It Is No Longer Your Home: As explained in STAGING FOR SELLERS, once you make the decison to sell, you have to accept a that it is no longer your home. It is a product you are trying to sell and staging is your top tier marketing effort to do that. A good marketer knows that propspective customers don't care about family photos, hobbies, etc. A good marketeer caters to the prefer- ences of the customer base and makes arrangements to sell or store all items that will detract from the "presentation" regardless of the personal value to him/her (e,g, perhaps, a favorite easy chair in the family room that is overcrowding or unbalancing the room).
5. WHY?: The most important question to be asked about the staging plan for design and decoration of any room or space is why or how does this affect the "presentation" to get the buyer impact desired. Even if you are having the staging done by someone else, it would be well worth a few dollars and a few minutes to get Katchart's STAGING FOR SELLERS or a second opinion so you will be better able to assess the answer(s) to the WHY. [An example: We asked a stager why they had put a large table with a tall lamp and other accesories in front of a beautiful picture window in a living room. The answer was to keep the (furniture) set together. Wrong answer! Picture windows are natural focal points and key selling features. Don't cover it up; make it the focal point of the presentation!
4. Its All in the Presen- tation: Staging is property marketing and the "presentation" is the marketing vehicle. By means of a good staging plan for each room and space, staging accentuates the positivees of the room while minimizing any negatives. The goal is very simple: for each room or space, the presentation should make good first impressions on the buyer and a positive impact. You want that customer thinking about how he/she would decorate the room and not reacting to a "what's wrong with this room" impact.
6. Pre-Staging Checklist: In the "Tips" section of the this website, we have included a Realtors Associ- ation Sellers' Checklist for real estate. Three of theses items there are so pertinent to the staging, that time is devoted to them in STAGING FOR SELLERS, even though they are not, "technically-speaking," part of staging. They are cleaning; de-cluttering and de-personalizing. Simply stated, if your not going to do these before before staging the property, you are wasting your time staging!
8. Focal Points: Focal points are a key part of any staging design plan. There are two kinds of focal points::natural (fire places, mantles, picture windows, bay windows, alcoves, some built-ins, etc.) and created (art work, some special furnishings, etc.) Focal points can have positive or negative impacts on buyers. STAGING FOR SELLERS addresses all of these and how to "frame" a positive focal point and neuter/elimante any  potential negative focal point impacts.