Katchart DIY DVDs
For Design and Decorating of Homes and Property
Staging to sell  /  Defining to set up  /  Redefining to make over
 Katchart Design & Decorating Articles
LEARNING TO STAGE
by Kathey Carter
Katchart Creative Director
© 2010, 2012. 2013 Katchart LLC  
Introduction: Staging is top tier property marketing. This article explains why Katchart's STAGING FOR SELLERS  design and decorating DVD makes staging easy and econmoical to learn and do. Before and afters are used to illustrate. The same is true for Katchart's other design and decorating DIY DVDs: DEFINING PROPERTY for new home set-up and decorating; and REDEFINING PROPERTY for room and space make overs. 
*****************************************************
Staging your property for re-sale is a must in this economy. It is a time-tested method of selling property faster and for more money. If you want to sell it, then stage it.
What is staging? Staging is interior/exterior design applied specifically to property sale. Normally the design/set-up of the property is targeted at your (the homeowner's) tastes. For staging, the goal is to appeal to as many prospective buyers as possible. So, it is about the buyers' tastes, not yours.  Staging is an extremely important part of the marketing effort to sell your home. As in any other marketing effort, the goal is to appeal to buyers. 
If a person goes into a store to buy a product and there are three different brands of the product of generally similar functionality and price, then they are almost always going to buy the brand that is packaged the nicest. It is the same thing with home purchases. After a buyer has decided on acceptable locations and price ranges, the final decision is always made for emotional reasons. This is where staging comes in.
Effective staging is a presentation designed to appeal to the buyer's emotions by maximizing the house's strong points and minimizing the weaknesses and creating positive first impressions that show off the potential of each room or space while enabling the buyer to visualize themselves in the house. So just like the example above of the three products in the store, staging is the means by which you, the seller, out-market your competition. An additional benefit of staging is that it lets buyers know that your property is ready to occupy.

This does not mean that you have to re-do everything or get different furniture, etc. to stage. You already have enough furnishings. In fact, the majority of people have too many furnishings for staging. Besides, the purchasers are not coming for your furnishings. Whenever you are designing, remember the adage that less is better. When it comes to staging, the adage becomes more like, less is critical.

ADDENDUM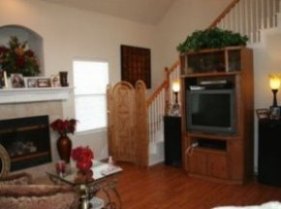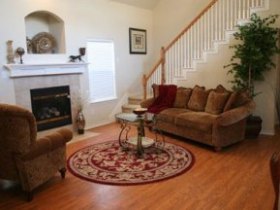 Before Staging                                                                        After Staging
In the before above, the room is over-crowded and cluttered. Even worse, the entertainment center is causing what we call a negative focal point (i.e. their eyes are being drawn to something they will not make a good first impression).
This room has a natural focal point, the fireplace and mantle. [A natural focal is one that are part of the property rather than a personal possession (or created focal point).] This is a great selling feature and needs to be "focal point" of the room, which is exactly what was done in the after.  We even moved the large art piece to another area and replaced it with a smaller print that compliments (rather than competes with) the fireplace area.