Katchart DIY DVDs
For Design and Decorating of Homes and Property
Staging to sell  /  Defining to set up  /  Redefining to make over
Katchart Design & Decorating Articles
LITTLE THINGS MATTER
© 2010, 2012. 2013 Katchart LLC  
Introduction: This article explains, with examples, why little things can have a large impact on the presentation, first impressions and more for any design and decorating Project. This topic is dealt in detail in all Katchart's  Design & Decorating DVDs: STAGING FOR SELLERS for staging houses and other properties; DEFINING PROPERTY for new home set-up and decorating; and REDEFINING PROPERTY for room and space makeovers.  
****************************************  
As with almost everything else in life, in the world of design and decorating, the little things matter. Sometimes those little things don't jump out, but there impact is, nevertheless, felt (or missed).
Although we have labeled this article as a Redefining (or makeover) article, the following example is included in all 3 of the Katchart DVD Packages  - Staging For Sellers, Defining Property, and Redefining Property because it is relevant whatever the reason one is designing and decorating. "Little Things" that do make an impact, whether or not they are specifically noticed.

First compare the  Before picture (of the vanity in a Master Bath) with the After picture. What is noticed immediately is that all the clutter, personal items and "stuff" have been removed and replaced with just a few accenting accessories. The other thing that jumps out is that the mostly-white hand towels were replaced with black hand towels. In this all-white bath room, the contrast of some dark color on the white background was simply needed and noticeable.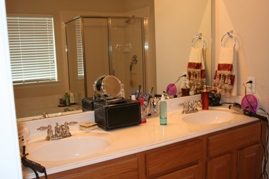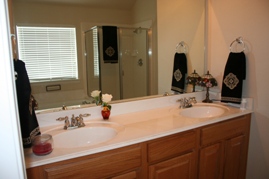 Before                                                                                                  After

Now for the Little Thing that is not so noticeable. Referring to both the Before and After inset photos below, you will notice that you can see the electrical outlet in the Before but cannot see it in the After photo inset. Why? Because the hand towel holder has been moved.
This simple, extremely easy and inexpensive thing to do (moving the hand towel holders away from the mirror a few inches) allows us up to cover the outlets for a more pleasing visual and also provides one other, very subtle, but very meaningful benefit. The space now looks larger. That occurs because of the mirror reflection. The further the towel holder is moved from the mirror, the larger the reflection in the mirror makes the space appear.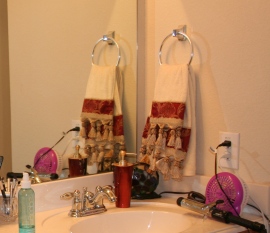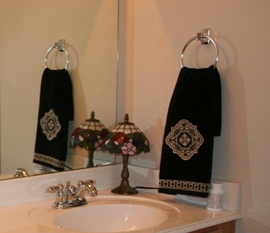 Before inset                                                                                  After Inset

It is a subtle thing, but people's eyes are seeing this reflection and their brain is processing it, even if they are not conscious of it. Their eyes would also see (and brain process) the reflection in the before but with a less positive impression.