Katchart DIY DVDs
For Design and Decorating of Homes and Property
Staging to sell  /  Defining to set up  /  Redefining to make over
Katchart Design & Decorating Tips
STAGING CLOSETS
© 2009, 2010, 2012, 2013 Katchart LLC 
Introduction: These tips and information for staging closets for optimal "presentation" and good showings of the home/property, supplement the infomation in Katchart's Design & Decorating DVDs and, in particular, STAGING FOR SELLERS for staging houses and other properties. However. these tips are also very relevant to Katchart's DEFINING PROPERTY for new home set-up and decorating; and REDEFINING PROPERTY for room and space makeovers. 
****************************************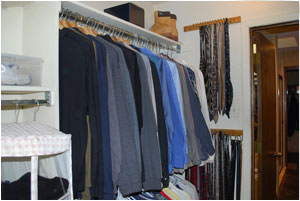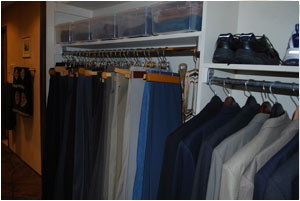 1. Look at every item in the closet with a very critical eye and only keep the items you need.
2. If rooms and closets still look cramped you may want to rent a storage space.
3. Now that you are preparing for a move, this is the time to start packing, labeling and storing all of the excess that you don't need anymore that is cluttering up the house.  You might find it necessary to keep some of these important things boxed but where you can access it easily.  It is very Important to secure all weapons and valuables.
4.Remove out-of-season clothing, boots, coats, comforters, blankets, pillows, extra sheets, books, nick-knacks, large pots and pans, DVDs, CDs, videos, and games.
5. Clean and organize from the floor up. Look at your closet like a retail clothing boutique whether a small or large closet.
6. Do not crowd your Staged Closet.
7. Try to keep the floor of the closet as minimal as possible to help enhance the closet and make it appear larger.
8. Leave space between hanging clothing, color coordinate and group together pants, blouses, suits, etc. The shelves should be kept to a minimum. Fold, and then very neatly place on shelves, leaving space on each side of the clothes.
9. Keep your closets smelling fresh by using cedar chips or dryer sheets or other fresh scents. Clean out entry closets and put a few hangers in there so the buyers can visualize their coats in it.